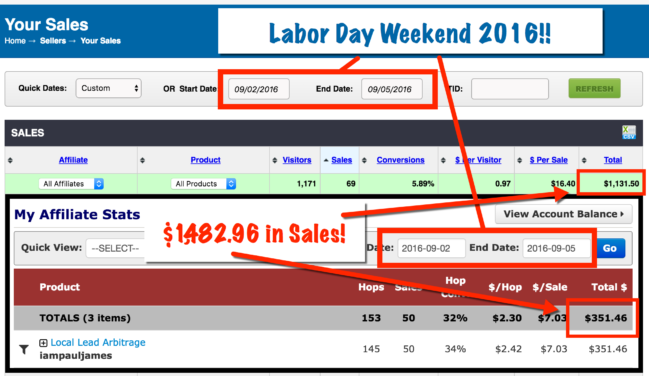 Are you working for your business or is your business working for you?
Last weekend was Labor Day weekend for us here in the U.S. and I spent most of it hanging out with friends & family.
But as you can see below, I still had $1,482.96 in sales almost on auto-pilot.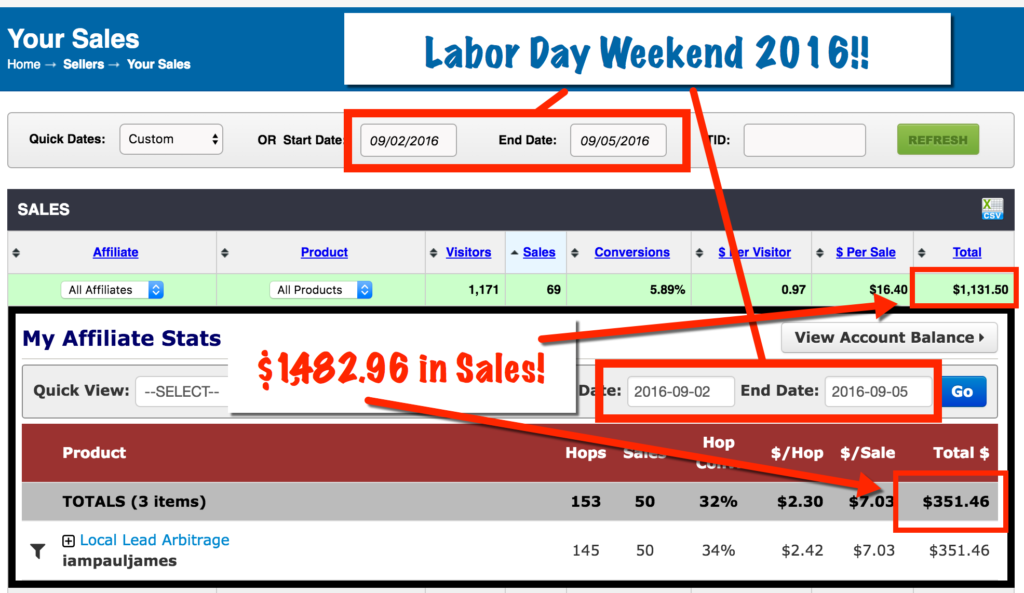 Look, I know many of you see promoting Digital Altitude using the OSP (Online Sales Pro) funnel..
Then you see post JVZoo "seller" screenshots & Warrior+ "affiliate" screenshots..
So what's up?
Well, truth be told, the best thing you can do for yourself is have multiple streams of income.
One of my first online mentors taught me that..
But it doesn't happen overnight. You can't build 4 businesses at the same time..
So where do you focus?
Well, that's where most people go wrong.
They spend time doing all the wrong things.
They don't focus on the right KPI's (key performance indicators) and they waste all their time doing things that don't make them money.
Sound familiar?
I did it wrong for years..
Look, for some people, high-ticket affiliate marketing programs like MOBE & ASPIRE / Digital Altitude aren't the best way to make money online.
If you don't have money to make a significant investment ($2k – $10k) then high-ticket probably won't be your "bread & butter" in terms of what's making you money.
But there are plenty of other ways to make money online that cost a lot less than that..
If you're not yet making money online, don't get discouraged..
If you're turned-off by the high-ticket affiliate model and you don't have a lot of money to invest, that's okay.. Don't get discouraged..
I can help..
I want you to succeed..
What will I get from it? Well, hopefully a good testimonial from you once you make some money.
I want you to be able to say that I helped you find financial freedom.
I want you to be able to say that I finally helped you make money online.
I don't know yet exactly what the best path for you is to make money online.. I don't know enough about you, your experience, your budget, etc..
If you want to connect for a 1-on-1 call with me over the phone, reach out to me on Facebook and let me know.. We can setup a good time to chat that works for both us.
No cost to you at all..
I'll can help you with your current business or I can also share some of my most successful models with you..
Either way, it's all about helping you get where you want to go.
You can keep doing exactly what you're doing now and have the exact same results, or you can take a leap and change things up.
It's your call.
Comments